Massage and Sports Massage Courses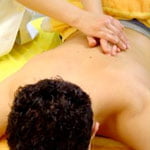 Massage therapy is an effective drug-free way to reduce stress, promote well-being, to help rehabilitation after injury, and to complement sports training. An increasing number of people are beginning to realise the benefits of massage therapy and the demand for massage therapists is on the rise. Therapists are employed with sports teams, in sports and leisure centres, health clubs, hotels and spas, and in all areas of the care industry. Many graduates have also successfully set up their own practice from a private clinic or from home.
Massage courses provide students with a thorough understanding of human anatomy and physiology, the theory of massage, client care, and business and professional conduct. Many of the courses take place in the evenings or at weekends. After completion, graduates are eligible to join professional organisations like the Irish Message Therapists Association for support, and can also continue their education, obtaining additional certification in different massage techniques such as Indian head massage or sports massage.
Institutes that offer training towards these qualifications include The Natural Healing Centre, The Tree of Life Holistic Centre, Motions Fitness, Image Fitness Training, and the Institute of Massage and Sports Therapy.
In Dublin, Galway and Cork City, Image Fitness Training offers an ITEC level 3 sports massage course. Participants will be equipped to deal with sports and fitness clients and provide massage to aid and speed up recuperation from strenuous sports activities.
Motions Health and Fitness Training in Dublin offer the ITEC diplomas in both Holistic Massage and Sports Massage. The ITEC diploma in Sports Massage teaches massage for injury and training. Each of the diploma programmes are offered on a part-time basis at the Palmerstown Sports Complex in Dublin and take place on Wednesday nights starting in October and finishing with examinations in May.
The Institute of Massage and Sports Therapy in Annacotty, County Limerick and Galway City offers the ITEC Diploma in Holistic Massage as well as several others including a Sports Injury Therapy Course and a Sports Equipment Diploma. All courses are run on a part-time basis, from September to June for two years, running on Saturdays or Sundays in Galway and Annacotty.
For other massage training and fitness training options, check out Sports Massage course listings on Findacourse.ie