Fitness Instructor Course, Dublin, Cork and Galway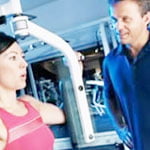 Interested in becoming qualified as a fitness instructor? If so then Image Fitness Training are running their NEFPC (National Elite Fitness Professional Certificate) in Dublin, Cork and Galway. The Dublin course is run in the Liffey Valley Fitness Centre in Dublin 22. The Cork location is in Leisureworld, Bishopstown, whilst in Galway the course location is in Active Fitness and Leisure on the Dublin Road, Renmore.
Graduates from these courses are eligible for discounts on ongoing fitness up-skilling workshops such as Kettle-Bells, Strong Man training, Group Boxing, Suspension Training and Studio Cycling.
The course covers topics such as Anatomy, Exercise Physiology, Injury Prevention, Teaching Skills, Health Screening, Stretching, Weight Training, Exercise Programmes, Flexibility and more.
To find out more about this Fitness Instructor, contact Image Fitness Training and receive a more detailed course outline as well as pricing and schedules to your email address.
More details about Image Fitness Training can also be viewed on their Image Fitness FitnessTraining.ie Page