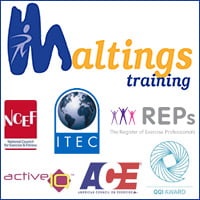 Maltings Training is a leading centre of training excellence, offering a variety of training courses in the Exercise and Health Sector, which are approved by Active IQ, ACE, CEHF, ITEC, QQI, ETB, and FitPro.
The aim at Maltings Training is to provide you with the best in Fitness and Health related education by providing leading Training Programmes certified by professional accreditation bodies and delivered in a friendly and professional learning environment.
Maltings Training is a Certified Provider for Active IQ delivering courses in Fitness Instruction and Personal Training and the National Council for Exercise & Fitness (NCEF) which is authorised to provide the Certificate in Exercise & Health Fitness, which is accredited by the University of Limerick. In addition, Maltings Training is an ETB registered training organisation, an International Therapy Examination Council (ITEC) accredited training college, and is registered with QQI (Quality and Qualifications Ireland) to offer programmes leading to QQI awards on the National Framework of Qualifications.
Contact Institute - Maltings Training Ltd
All Fitness Qualifications are REP's recognised. Maltings Training also offer courses in First Aid and Patient Handling.
Courses include the following;
Fitness Instruction Certificate
Diploma in Personal Training
Fitness Instructor (NCEF)
First Aid
For more information on Maltings Training, view the links below..
• Maltings Training Courses on Findacourse.ie