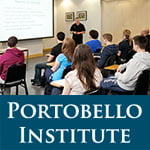 The BSc (Hons) in Sports Science & Physical Education awarded by London Metropolitan University (LMU) is one of the first such degrees in the UK. In Ireland the demand for skilled, highly trained graduates in this specialised area is at an all time high. Knowledge and understanding of Sports Science and Physical Education is developed through an integrated programme of lectures, tutorials, practicals and laboratory based sessions, and through the guided use of student centered learning activities such as problem solving exercises, case studies, directed reading and e-learning.
Contact Institute - Portobello Institute
The 1st year provides a solid foundation of knowledge and understanding in all disciplines of sports science including psychology, human physiology and anatomy with the addition of specific PE workshops and practicals. The focus of Year 2 is the application of knowledge and in particular the science behind effective teaching and learning in sport. The final Year 3 emphasis is placed on advanced and applied aspects of sports performance and physical education
All our sports courses are held in the iconic Croke Park Stadium.
Duration: 3 years full time or 4 years part time study.
Fee: €5450 per year
Course Location: Croke Park
Application process: There are no point requirements for this course. All our full time courses are interview based. This is to ensure this is the correct course for you.
Link: http://www.crokepark.portobelloinstitute.ie/sports-courses/degree/bsc-sports-science-and-physical-education-full-time